In This Section
Employee of the Month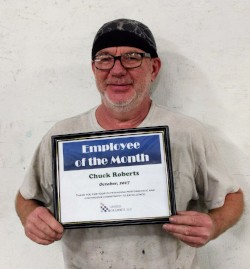 Chuck Roberts
Please congratulate Chuck Roberts – he is our October Employee of the Month!
Chuck has demonstrated great versatility and the ability to work in any capacity the company needs. He has been willing to change shifts on short notice and to help out with overtime. He can productively run many machines and maintains good quality and a positive attitude. Thank you, Chuck, for all you do to make all of us successful.
The Employee of the Month receives a $150 in Mattoon Chamber Bucks, a reserved parking space, and recognition throughout the company.